Social Inclusion in MCC's Mongolia Compact: Affordable Water for all in Ulaanbaatar
April 28, 2021
Sharon Rogers, Director, Gender and Social Inclusion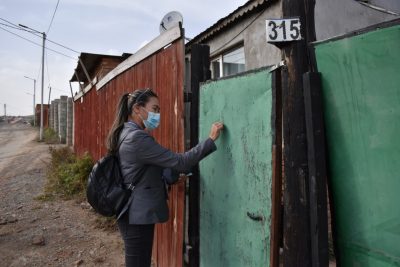 Making public services like water and electricity more affordable and accessible for low income, rural, and marginalized households is a major factor for ensuring social inclusion in MCC's infrastructure investments. This requires consulting with stakeholders and analyzing demographics and household data to support evidence-based policy decisions.
The Mongolia Water Compact is one example where social inclusion and evidence-based policymaking are front and center. In the Mongolia Compact, social inclusion means keeping water affordable, even as tariffs rise to pay for the needed infrastructure improvements that will address the water shortages that threaten the rapidly growing population of the capital city, Ulaanbaatar ("UB"). Social inclusion also means water service providers and policymakers understand the needs and concerns of all types of households and individuals in the city so that data can inform their decisions.
In UB—home to nearly half of the country's population— people get water in two ways, which leads to substantially different levels of water consumption depending on where people live. People who live in the central city, generally in apartments, have indoor plumbing and water piped into their homes. People living in "ger areas" outside the center city access drinking water through public water kiosks in their neighborhoods and use outhouses on their land, as well as public bathhouses and laundries. Ger area residents make up more than half of the city's population and a majority of the city's poor households. At the same time, despite their numbers, ger area residents consume far less water than apartment households. They also pay more per liter of water than do households connected to the central water and sewer network, despite their lack of connection to the water network. A 2016 study projected that in 2021, ger area residents will consume less than seven percent of the city's total household consumption of water.
The Path to Social Inclusion
The compact is addressing these disparities by supporting the water regulator and other key policymakers to undertake tariff reform that works to make sure that water remains affordable for all, while also ensuring that people who can pay a cost-reflective price for water do pay. Financial sustainability for the utility will help ensure the long-term sustainability of UB's water supply. The goal is to generate sufficient revenue for the municipal water utility to cover its true costs of operations, maintenance, and new investments, without exacerbating existing inequalities or generating public perceptions that higher tariffs are unfair.
The compact's main social inclusion activity has four phases. During the first phase, the Mongolian National Statistics Office (NSO) carried out a willingness to pay ("WTP") survey of approximately 5,000 apartment and ger area households in UB in September and October 2020. The survey collected data from households about their socioeconomic and water consumption, along with statements willingness to pay for water under future scenarios, opinions about the quality of water and water service, and experiences with billing and payments.
Mr. Amarabal, the Director of the NSO's Population and Social Statistics Department said, "This survey will be a foundation for many future projects and studies in the water sector…The collaboration between the NSO of Mongolia and the Millennium Challenge Account of Mongolia is a big step to show the public the importance of a research-based decision-making process." The collaboration is also likely to make the data and the related decision making more credible with the public and policymakers, who can be skeptical of data from private research firms and foreign consultants.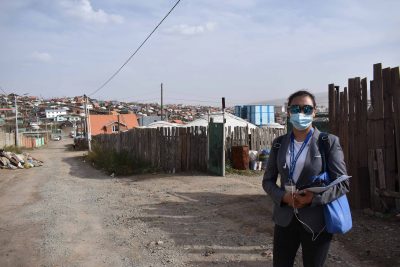 After policymakers' review of the WTP survey findings, expected in summer 2021, the next phase of the social inclusion activity will use the socioeconomic and water consumption data from the WTP survey to assess how affordable different tiers of water pricing are for apartment and ger area households in various income brackets. Researchers will then be able to identify which types of households will face affordability problems at different tariff levels. They will use this data to provide recommendations to policymakers about the design, scope, and budget to initiate a targeted customer assistance program to help low-income customers to pay for water. The third phase of the research will provide policymakers with recommendations for revising the water tariff system in UB, prioritizing both water affordability and the water utility's financial sustainability. The final phase of the activity will enable MCC to follow-up on the priorities of the utility, regulator, and municipal government.
MCC's investment in Mongolia aims to prevent a water crisis in UB by creating a sustainable water supply. By focusing on social inclusion from the very beginning of the compact, MCC is providing decision makers with the data to create policies that are more likely to be effective, because they consider the realities of existing inequalities and how that will affect outcomes. The people of UB are telling their water story, and now policymakers have a way to listen.