Q&A with InterAction CEO Sam Worthington
October 31, 2017
Leigh Stapleton, MCC Public Engagement and Outreach Lead
Since 2006, Sam Worthington has served as the CEO of Washington, D.C.-based InterAction, an alliance of international non-governmental organizations committed to reducing global poverty. In a recent conversation with MCC, Worthington discusses the successes of U.S. foreign assistance, why partnering with civil society is critical to aid effectiveness, and what he considers the most pressing challenge facing the global community today.
Who are InterAction's member organizations and how do they work to reduce global poverty?
InterAction's members and partners are more than 220 U.S.-based international non-profits reflecting both the diversity of the American public and a broad array of ways to impact human welfare around the world. These organizations are based on generosity and the American values that you can and should make a difference in the lives of the world's poor and vulnerable populations. These institutions have evolved over decades into being one of the largest subsets of the NGO sector in the world.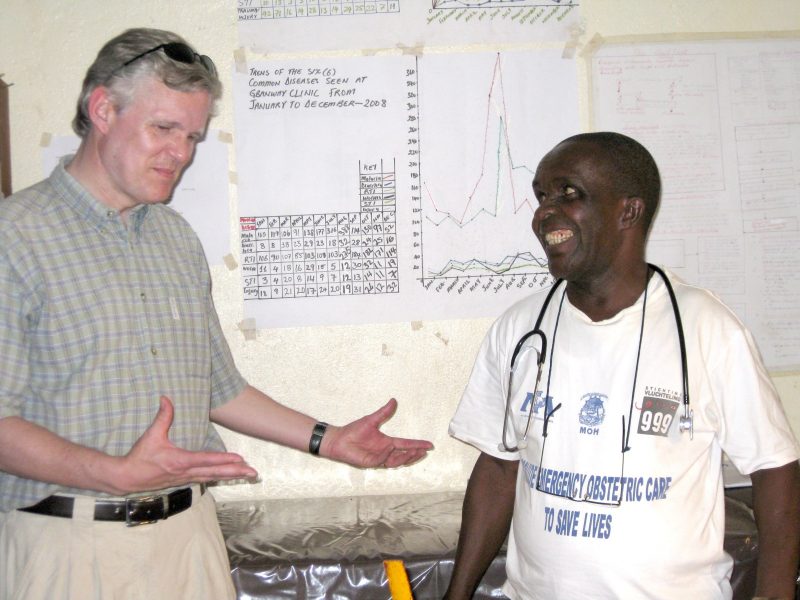 How does U.S. foreign assistance contribute to U.S. security, prosperity and global leadership?  
U.S. foreign assistance represents our nation's values at their best. It promotes leadership by showing that the American public cares about others in the world as partners. It brings stability after humanitarian crises. It can stop and repress pandemics. It promotes opportunities and provides hope for some of the world's poorest people. Ultimately, it creates the foundation for stronger international ties and greater collaboration around the world.
There's been bipartisan support in Congress for foreign aid and an awakening and mobilization of domestic resources, which make the American people a donor on par with the U.S. Government.
In your view, what are some of the top achievements of U.S. foreign assistance over the last two decades?  
One is the creation of MCC, which is a unique body based on principles of good governance and performance and rooted in local ownership as keys to success. Another achievement is the United States President's Emergency Plan for AIDS Relief (PEPFAR), which has provided a real stop to the spread of HIV/AIDS. More recently, the Global Food Security Act has helped increase the ability of people to feed themselves around the world.
What makes aid effective? And how can MCC and other U.S. Government agencies work with civil society and the private sector to improve aid effectiveness?
People, states and local institutions all develop on their own. Ultimately, the effectiveness of aid is our ability to partner with these individuals and institutions and together carry out projects that meet real, identified local needs and ensure their sustainability. Partnerships need to reflect the diversity of the whole of society — from the private sector to government to civil society. Civil society brings in local capacity, local ownership and a legitimacy to programs that reinforce decisions made by local governments. There is value in reflecting on the lessons associated with the MCC model — not just as a state-to state model but as a way to engage the private sector and civil society groups, and how we could move beyond government ownership to a broader societal ownership of programs. This partnership ultimately helps MCC both leverage new resources and strengthen its programs.
What do you see as the most pressing development challenge facing the global community today?
We have seen tremendous success over this past generation of improving human welfare, but this is being stopped by an expansion of the number of fragile states and conflict environments. We are reaching a tipping point where the majority of the world's poorest people are now living in fragile and unstable environments, often marred by conflict. For the first time in a generation, we are seeing an increase in hunger; we are seeing the largest displacement of individuals since World War II; potentially the largest famine with some 20 million people potentially at risk; and a slew of natural disasters all coming one after the other. So the pressing challenge is, how can we — within that context of more fragile environments — maintain and advance past development successes?
How do InterAction's members plan to address this challenge?
We plan to address this by focusing more on a stronger voice of civil society both here in the United States and around the world. Part of this is doing what we can to hold government to account, engaging and informing publics where we can protect the space of civic actors to function, and doing that in partnership with friendly governments. None of these efforts are sustainable in the long run unless there is effective collaboration with the private sector and government. In many ways, it will be new forms of collaboration between government, private sector and civil society — including non-governmental organizations — that will help advance joint development goals, particularly in fragile environments and where there is conflict.