Answering the Global Call to Action – MCC and USAID's Climate Finance +
November 29, 2022
Hope Herron, Associate Director
Jason Bauer, Director, Finance, Investment & Trade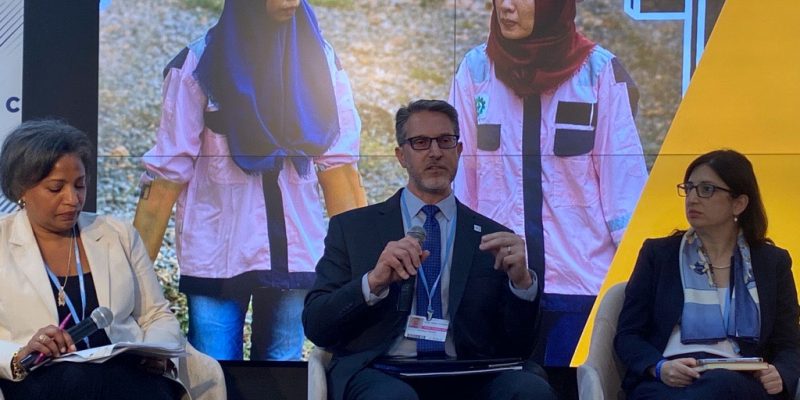 One of the biggest calls was to close the gap for adaptation finance, particularly in the low to lower middle-income countries where MCC works. Adaptation finance is required to support more resilient infrastructure that can withstand natural hazards like floods and droughts—an urgent need as hazard events impact more people and grow more intense and more frequent every year. Disasters set back economic growth and poverty reduction and exacerbate existing vulnerabilities. For example, catastrophic flooding recently affected approximately one third of Pakistan's land area, damaging countless schools, clinics, homes, farms, and roads. Rebuilding efforts are estimated to cost approximately $30 billion. Funding is only slowly trickling in, with just a fifth of an $800-million U.N. aid appeal for the country covered so far, while residents live in makeshift tents scattered across the landscape in southern Pakistan. Looking to the African continent where much of MCC's investments are focused, McKinsey & Company estimates that more than 900 million Africans could find themselves exposed to one or more climate hazards over the next 30 years.
Nature based solutions were identified as a particularly important area to scale investments given the co-benefits of these investments and ability to support both climate mitigation and adaptation goals. Ecosystems, such as forests and mangroves, provide carbon storage while supporting adaptation goals, such as reduced flood risk, improvements to water quality, and by providing habitat for fish and wildlife.
Launch of Climate Finance +
Against this backdrop, MCC and USAID launched Climate Finance +, a collaborative government approach to strategically use public finance to unlock billions in private investments for green and climate-friendly infrastructure.  
Climate Finance + seeks to introduce and scale green finance products in the low to lower middle-income countries that need it most. Although there is clear investor demand for green financial products and projects to invest in, the issuances from countries where MCC works are dwarfed in both size and transaction volume from wealthy economies and many middle-income countries. This is particularly pronounced in Africa which remains significantly underrepresented in climate finance transactions. According to the Climate Bonds Initiative, only about 0.5% of green bond issuance have come from Africa since 2014, even though the need for climate finance in Africa is significant and is expected to grow. 
MCC and USAID will support strategic market development activities that can improve both the enabling environments for investment in green infrastructure, as well as the skills and capacity of market actors at an institution and firm level. We believe that a small financial contribution in technical and advisory activities, and in de-risking capital for individual transactions, can leverage far greater flows of climate finance – perhaps 10x as great as this programmatic and grant capital contribution.  
Green bonds are now a well-established finance product and other forms of climate finance, such as green or sustainability loans, climate-linked insurance products, and carbon markets, are growing significantly as well. MCC and USAID are well placed to collaborate and produce support that is tailored to the needs of the countries we work in. This may include, for example:  
Helping to develop green finance taxonomies and green bond frameworks.

 

Support for developing project pipelines, structuring financial products, marketing, managing bond proceeds, and monitoring, reporting and verification.

 

Financing support for credit enhancements to de-risk deals

and attract private capital.

 
MCC's Initial Target Countries 
MCC will initially target three countries: Mozambique, Zambia, and Indonesia. Importantly, these three countries represent a range of how financial instruments can support both adaptation and mitigation goals.  
In Mozambique, MCC and the Government of Mozambique are developing a coastal zone restoration and management project that seeks to restore mangroves and seagrasses to protect the coastline, establish marine protected areas to help build fish stocks, and facilitate blue bonds and carbon credits to provide income and alternative livelihoods to communities.  
In Zambia, the government has begun critical processes to strengthen the enabling environment for climate finance and set incentives to activate the market. MCC's support can help Zambia accelerate the market development progress underway and bring issuers to the market for projects that help improve agricultural productivity.
In Indonesia, MCC is partnering with the Government of Indonesia to improve financial product offerings and conditions for critically needed infrastructure investment, including in the transportation sector, while exploring climate friendly initiatives such as deploying electric vehicle technologies. MCC has also provided funds within the proposed compact to support projects under the country's Just Energy Transition Partnership (JET-P), recently announced on November 15th. 
The climate financing gap is huge – there's no single source of financing that can fill it.  We need to look at all options to scale up financing and the private sector is critical.   
MCC is well placed to launch Climate Finance +. We provide large-scale grants for infrastructure that, combined with strategic technical assistance, help to enable the policy reforms and institutional strengthening necessary to provide the right conditions for private investment, and to incentivize those flows. We also have a strong emphasis on cross-stakeholder collaboration necessary to facilitate the productive engagement with actors from across government, the civil society, and the business community.  
Our goal is for Climate Finance + to not only establish the right conditions, capabilities and incentives to facilitate private investments in and around our compacts, but that it will also provide the framework and basis for our partner countries to build on and attract additional investments long after our compacts have been completed.