MCC Boosts Energy Efficiency in Ghana
December 9, 2021
Khalia Mounsey, Deputy Resident Country Director, Ghana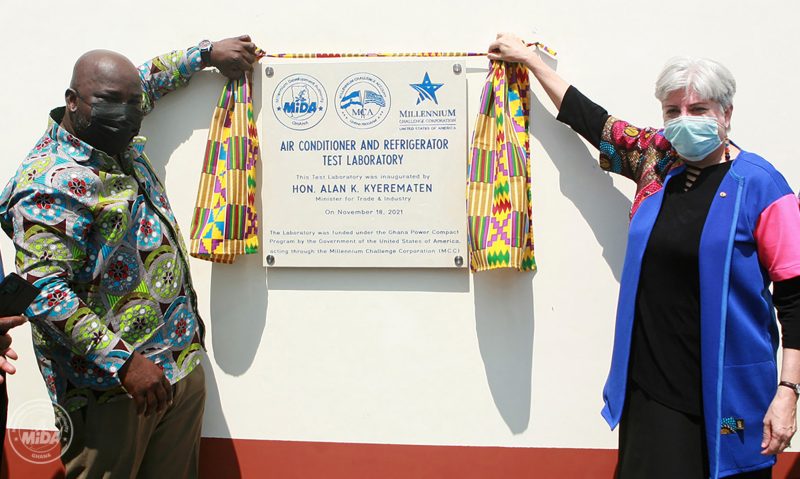 In Ghana, refrigerators and air-conditioning units are the appliances that consume the most electricity in homes and commercial buildings. For many Ghanaians, the first major home appliance they purchase is a refrigerator. Year-round high temperatures and humidity combined with a growing economy and rising household incomes mean higher demand for these appliances.
Two decades ago, Ghana set out to create energy efficiency standards and a labeling regime for high-energy consuming appliances to curb future energy demand and consumption. The first standards were enacted in 2005. However, the country has always relied on third-party certifications conducted abroad to enforce those standards, until now.
The MCC – Ghana Power Compact is investing more than $25 million to strategically advance energy efficiency programs to reduce electricity demand, conserve today's energy resources, and prepare Ghana to address the challenges of a changing global climate.
On November 18, 2021, U.S. Ambassador to Ghana Stephanie Sullivan joined Ghana's Deputy Minister for Trade and Industry Michael Okyere Baafi to formally inaugurate the new Air Conditioner and Refrigerator Test Laboratory at the Ghana Standards Authority—the first of its kind in West Africa.
The building, laboratory equipment, and newly trained personnel give the Ghana Standards Authority the capacity to test the energy performance of room air-conditioning systems and refrigerators prior to importation, ending Ghana's reliance on third-party certifications conducted abroad.
This laboratory will support Ghana's efforts to enforce its energy efficiency standards and regulations, curtail the importation of sub-standard, high energy consuming appliances, and reduce power consumption and related carbon emissions. It will help ensure high energy consuming electrical appliances meet Ghana's Energy Commission's standards and support Ghana's National Appliance Standards and Labeling Systems Program. The facility will be maintained and sustained by the Ghana Standards Authority and the income generated from charging importers for appliance testing and certification. The laboratory is already operating commercially with new appliance models submitted for testing by air conditioner and refrigerator importers.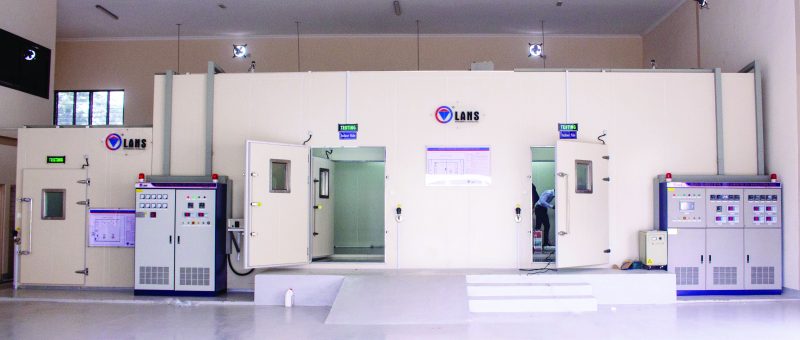 The Laboratory is a demonstration of MCC's commitment to supporting partner countries in building a more energy-efficient and climate-resilient future. It positions Ghana as a regional leader for enforcing energy efficient appliance standards and a potential regional gateway for energy efficient appliance importation.
In addition to the new Air Conditioner and Refrigerator Test Laboratory, MCC funds are advancing energy efficiency programs in Ghana by providing funds for strengthening the existing standards and regulations to reflect new technology, retrofitting high energy-consuming appliances in government institutions, replacing streetlighting with energy-efficient bulbs, building energy auditing capacity in three technical universities, and piloting an energy-efficiency school curriculum module. These efforts will save the Government of Ghana and Ghanaian consumers money, raise awareness about how to be good stewards of energy resources, reduce power consumption and future peak loads on the power grid, and lead to a reduction in emissions given the proportion of Ghana's energy supply tied to thermal energy.
Last month, COP 26 brought together more than 190 world leaders to accelerate action on the Paris Agreement and the United Nations Framework Convention on Climate Change. As the world coalesces around solutions for addressing the human impact of a changing global climate, the benefits of energy efficiency, especially for developing countries, cannot be ignored. Energy efficiency translates into reducing energy consumption, saving customers money, and mitigating climate change and risks associated with it.
In keeping with those concerns, MCC is also elevating its own climate ambitions. Through the MCC Climate Change Strategy launched in July 2021, the agency is expanding and deepening its attention to climate change across its portfolio of investments and business operations. MCC has already invested more than $1.7 billion in climate-related activities from FY2015 to FY2020, representing about 40 percent of total investments. The new Air Conditioner and Refrigerator Test Laboratory at the Ghana Standards Authority is a just one example of how MCC dollars make economic and climate sense.