MCC CEO Discusses Agency Priorities and Milestones in Hudson Institute Event
For Immediate Release
May 7, 2020
WASHINGTON, D.C., May 7, 2020 – The U.S. Government's Millennium Challenge Corporation (MCC) Chief Executive Officer Sean Cairncross was the featured speaker for a virtual event hosted by Hudson Institute, titled "Security and Stability Through Economic Empowerment." The Hudson Institute is a think tank and research center focused on nonpartisan analysis of U.S. and international economic, security, and legal issues. The event was moderated by Nadia Schadlow, a Senior Fellow at Hudson Institute.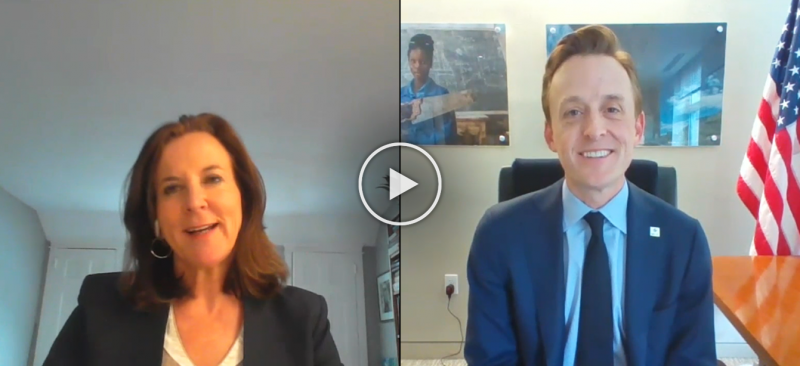 During the discussion, CEO Cairncross emphasized the success of MCC's model in promoting economic growth, stability, and security. He spoke of the rigor, analysis, and expertise that MCC brings to each of its investments, and about how MCC works with partner countries to reduce constraints to economic growth in a transparent and accountable way. The discussion also addressed the differences between MCC's model of development and that of approaches like the Chinese Belt and Road Initiative.
"MCC is a great example of the alternative model that the United States offers to the world," MCC CEO Sean Cairncross said. "We offer sustainable growth, working with partner countries to build capacity on the ground and design projects that will be lasting and that have buy-in from every sector in society."
CEO Cairncross also addressed how MCC is responding to the global COVID-19 pandemic, underscoring that agency programs strengthen partner countries' health systems, either through targeted programs or interventions that indirectly improve a country's health outcomes. He reaffirmed the agency's mission to reduce poverty through economic growth, which will be especially vital for job growth and market revitalization once the COVID-19 pandemic subsides.
CEO Cairncross concluded the event by emphasizing MCC's strong relations with partner countries around the world and underscoring his commitment to MCC's first regional compact.
"We've been extremely clear with partner country governments about what we expect in terms of our partnership," he said. "That clarity has led to tremendous relationships across our portfolio. One of the things I'm really looking forward to is getting our first regional compact launched and operationalized. Looking back 10 years from now at the improvements that MCC's investments have made in the region is going to be an uplifting thing to see and an example of the United States' immense power to inspire."
A recording of the event "Security and Stability Through Economic Empowerment" is available to view.
###
The Millennium Challenge Corporation is an independent U.S. government agency working to reduce global poverty through economic growth. Created in 2004, MCC provides time-limited grants and assistance to low-income countries that meet rigorous standards for good governance, from fighting corruption to respecting democratic rights. Learn more about MCC at www.mcc.gov.