MCC Chief Executive Officer Sean Cairncross in Côte d'Ivoire to Launch Compact
For Immediate Release
August 5, 2019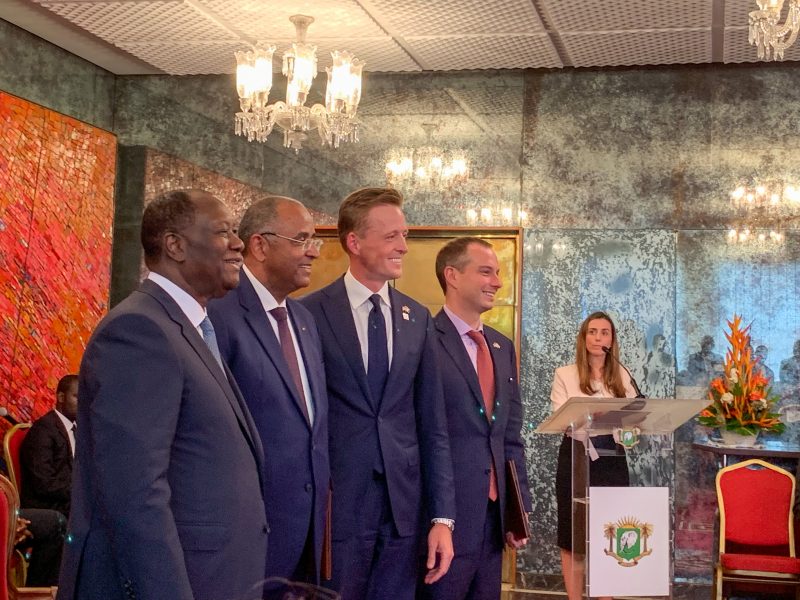 ABIDJAN, August 5, 2019 – The U.S. Government's Millennium Challenge Corporation (MCC) Chief Executive Officer, Sean Cairncross, joined President Alassane Ouattara of Côte d'Ivoire in a ceremony today to mark the entry into force (EIF) of MCC's compact with Côte d'Ivoire.
The EIF date officially starts the five year clock for compact implementation. MCC's $525 million compact with Côte d'Ivoire is designed to support growth and crowd in private sector led investment by building workforce capacity, reducing transportation costs, and opening new markets.
"This is an exciting and important moment in the partnership between the United States and the people of Côte d'Ivoire," MCC CEO Sean Cairncross said. "We are honored to be here in Abidjan today to celebrate the entry into force of the compact. MCC is proud to work with the Government of Côte d'Ivoire to diversify the economy and address key constraints to the country's economic growth. This compact will prioritize private investment in key sectors, helping to make Côte d'Ivoire a trade hub in the West Africa region. And, these projects will incentivize and implement important reforms; aiming to increase women's participation in the economy. This compact will build on a solid foundation of progress in Côte d'Ivoire and will help realize a stable and more prosperous future for all Ivorian people."
The Government of Côte d'Ivoire is expected to contribute an additional $22 million to support the compact program.
Côte d'Ivoire President Alassane Ouattara said the partnership between the Government of Côte d'Ivoire and MCC will impact the country for years to come. "This is an investment in the future of the Ivorian people," he said. "Together, we can strengthen the economy to expand growth and opportunity in Côte d'Ivoire and beyond."
As part of the compact, the Abidjan Transport Project will reduce transport costs and improve efficiencies for businesses by rehabilitating roads in and around the port area and improving road network management and maintenance.
The Skills for Employability and Productivity Project will increase access to secondary education and teacher training and support the construction of up to 84 new secondary schools. Through a public-private partnership, a new technical vocational education and training model will advance development of in-demand skills. It will also help the government mitigate gender disparities, improving outcomes for girls in the education system.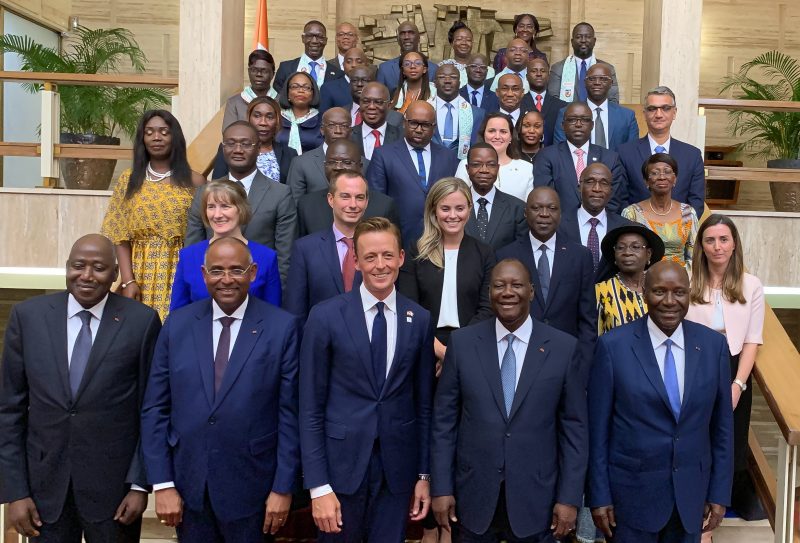 MCC believes that advancing gender equality and supporting women's economic empowerment is fundamental to achieving our mission. MCC is proud to support President Trump and the Administration's Women's Global Development and Prosperity Initiative (W-GDP). Spearheaded by Advisor to the President Ivanka Trump, W-GDP is a whole of government approach to advance women's economic progress and participation around the world. Côte d'Ivoire has already implemented impressive reforms to promote gender equality. In April 2019, during a visit by Ivanka Trump, the Ivoirian Ministry of National Education launched a new gender unit that will focus on improving education and training for girls and women to further strengthen the workforce and meet the needs of the Ivoirian private sector. And in July 2019, four new laws were passed associated with the Family Code that demonstrates the Government of Côte d'Ivoire's recognition of the critical role women play in advancing economic prosperity in their family, community, and for their country. The MCC compact will support further advancements in gender equality and economic empowerment.
"Today's announcement is reflective of the significant commitment of the Ivorian Government to prioritize the economic empowerment of its citizens. MCC and W-GDP will continue to support efforts to address legal and regulatory barriers for women – like the recent passage of the new laws associated with the Family Code – in Cote d'Ivoire and around the world," said Advisor to the President Ivanka Trump.
MCC's compact with Côte d'Ivoire is the result of extensive analysis to identify binding constraints to growth in the country. Côte d'Ivoire has made significant progress over the past few years to be eligible for MCC funding, passing 14 of 20 indicators on MCC's scorecard in fiscal year 2019, compared to five in fiscal year 2013.
A compact reaches EIF when all preliminary requirements have been taken care of, such as any legal or regulatory reforms, establishing an implementing entity, procurement, and detailed financing and work plans. When these conditions have been met, the actual work to implement the compact begins. MCC compacts must be implemented within five years from the EIF date.
Using a country-led approach that reflects a country's own priorities, MCC provides time-limited grants and assistance to developing countries that meet rigorous standards for good governance, from fighting corruption to respecting democratic rights. Working with local partners, MCC tackles some of the most pressing challenges that developing countries face, like access to electricity, clean water, land rights and roads.
For more information on MCC's investments, visit www.MCC.gov.
###