Press Release
MCC Acting CEO Highlights Investment, Partnership Opportunities at Africa Business Forum
For Immediate Release
February 2, 2018
WASHINGTON, D.C., February 2, 2018- This week, the U.S. Government's Millennium Challenge Corporation (MCC) Acting Chief Executive Officer Jonathan Nash participated in the Transform: The Africa Business and Investment Forum hosted by the Corporate Council on Africa (CCA) in partnership with the United Nations Economic Commission for Africa (UNECA) in Addis Ababa, Ethiopia.
The event brought together African and U.S. private sector executives, African heads of state, ministers, senior U.S. Government officials, representatives of multilateral institutions and other stakeholders to discuss ways to promote private sector-led growth in Africa.
During the forum, Acting CEO Nash highlighted new investment and partnership opportunities. MCC investments unlock capital, improve investment environments in partner countries, and help create opportunities for the private sector in emerging markets.
New procurement and investment opportunities are available with MCC compact programs in Niger and Benin as well as other countries. View opportunities on MCC's Work With Us page.
Watch Acting CEO @JonNashMCC reflect on his day at the #AfricaBizForum, and be sure to read his keynote remarks https://t.co/do3tAsSxNw pic.twitter.com/AKEubLa0Ft

— Millennium Challenge (@MCCgov) January 30, 2018
Opening Session Remarks
Below is an excerpt from Acting CEO Nash's remarks during the opening session:
"From promoting trade and economic progress to countering violent extremism, U.S. and Africa share a number of common interests.  Strategic investments in critical sectors can help the poorest people rise out of poverty – advancing security, stability and prosperity across Africa.
As we all know, the continent is home to some of the world's fastest-growing economies and will be home to one quarter of the world's consumers by 2030. U.S. companies and investors are increasingly aware of the continent's economic potential.
**
We are optimistic about the potential for investors to partner with us and others on the continent to increase economic growth and reduce poverty. By connecting investors to new, underserved markets, we can expand opportunity for millions of people across Africa.
We will continue to work to forge strong, innovative partnerships with the private sector, civil society, foundations and others to increase the impact of our collective investments."
Read Acting CEO Nash's full remarks on our website.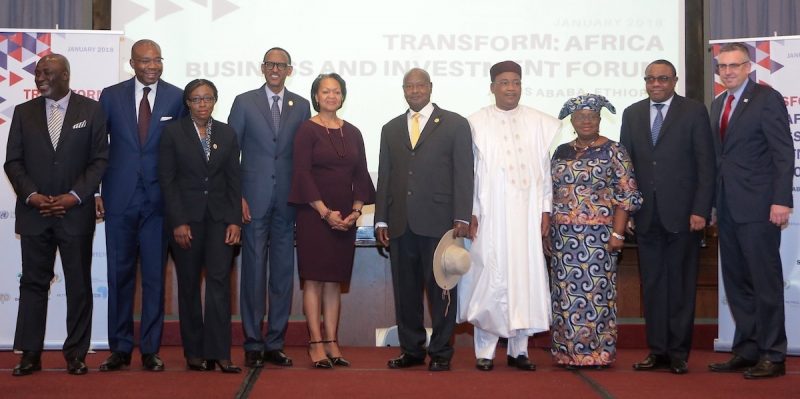 Roundtable on Agribusiness
During a roundtable focused on agribusiness in Africa, Acting CEO Nash highlighted how MCC projects catalyze private sector investment:
"Our goal with our public dollars is to open up markets… We are investing in the building blocks that will lower risk and create incentives for the private sector to come in and work alongside us."
View a video from the roundtable:
"We are investing in the building blocks that will lower risk and create incentives for the private sector to come in and work alongside us" -Acting CEO @JonNashMCC during Agribusiness roundtable at #AfricaBizForum hosted by @CorpCnclAfrica & @ECA_OFFICIAL pic.twitter.com/oWPv6llUSj

— Millennium Challenge (@MCCgov) February 1, 2018