Press Release
Alice Albright Sworn In as Millennium Challenge Corporation CEO
For Immediate Release
February 16, 2022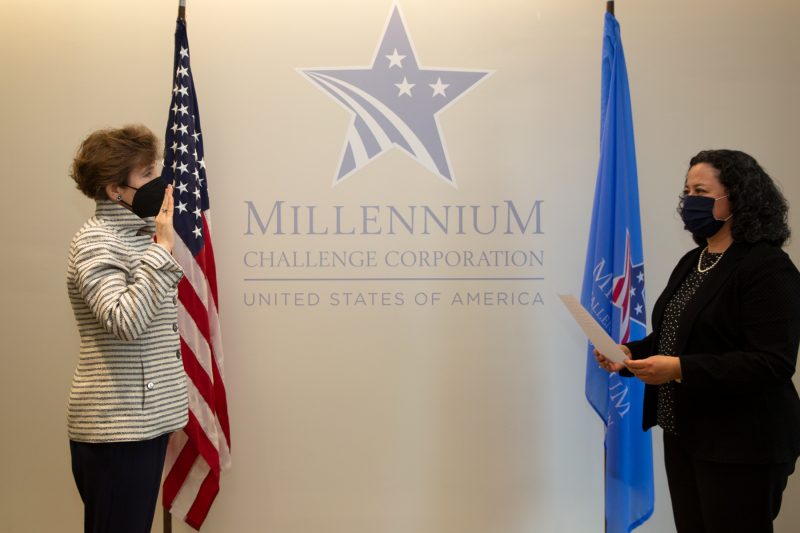 WASHINGTON (Feb. 16, 2022) – Alice Albright was sworn in as the Millennium Challenge Corporation's (MCC) sixth Senate confirmed Chief Executive Officer (CEO) today at the agency's headquarters.
Albright, who previously served as the CEO of the Global Partnership for Education since 2013, was welcomed to the agency by Mahmoud Bah, who served as MCC's Acting CEO since Jan. 20, 2021.
"I am deeply honored to join the MCC team and grateful for the trust President Biden has put in me," said Albright. "MCC is truly a gem among U.S. foreign assistance agencies, leading our government's efforts to deliver global infrastructure investments alongside policy reforms in energy, transportation, agriculture, education, and more—all critical sectors to reducing poverty through sustainable and inclusive economic growth. MCC is also uniquely positioned to create impactful opportunities with partner governments, other donors, and the private sector. Delivering these exceptional results is no small task and would not be possible without an exceptional team."
"The staff at MCC represent the pinnacle of professionalism and dedication; always striving to create a better future for those in need. Through the agency's proven, data-driven model, the MCC team is working to address the development challenges of today and tomorrow."
"As the agency approaches its 20th anniversary, MCC continues to evolve to meet the development challenges of today while remaining committed to its roots and advancing democracy, good governance, and investing in people. I am eager to start working with Congress, private-sector leaders, other U.S. government agencies, and MCC partner countries to help reduce poverty and build a more prosperous future for generations of people around the world."
Over the last 18 years, MCC has invested $15 billion in 29 partner countries and has improved the lives of more than 200 million people.
The Millennium Challenge Corporation is an independent U.S. government agency working to reduce global poverty through economic growth. Created in 2004, MCC provides time-limited grants and assistance to countries that meet rigorous standards for good governance, fighting corruption and respecting democratic rights.