Press Release
Sec. Yellen Signs $649 Million Infrastructure and Finance Grant with Government of Indonesia
For Immediate Release
April 13, 2023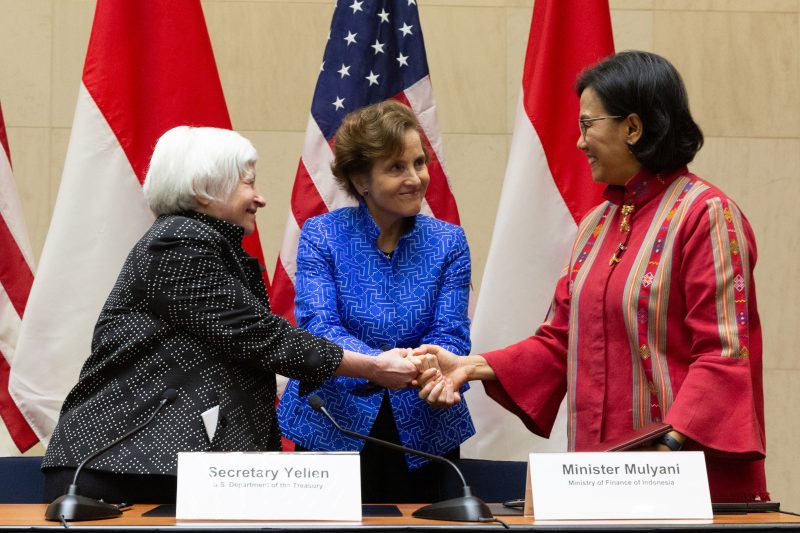 WASHINGTON (April 13, 2023) – U.S. Secretary of the Treasury Janet Yellen and Indonesian Minister of Finance Sri Mulyani Indrawati signed the $649 million Indonesia Infrastructure and Finance Compact – a five-year grant between the U.S. government's Millennium Challenge Corporation (MCC) and the Government of Indonesia.
MCC Chief Executive Officer (CEO) Alice Albright joined the signing ceremony at the International Monetary Fund with representatives from the U.S. and Indonesian governments.
"This partnership represents the United States' and Indonesia's shared belief in democracy and innovation-driven economic growth," said Secretary Yellen, who is Vice Chair of MCC's Board of Directors. "The compact will support Indonesia's Just Energy Transition Partnership, and the development of climate-resilient infrastructure that meets the standards under the Partnership for Global Infrastructure and Investment (PGII) – jointly announced by our presidents at the G20 Leaders' Summit."
Indonesia's micro-, small and medium enterprises (MSMEs) employ almost 97 percent of the nation's workforce and contribute around 57 percent of the total GDP. As the country continues to invest in manufacturing and commodity-based exports, high-quality infrastructure is needed to transport workers and goods.
"MCC is proud of our nearly 20-year relationship with the Government of Indonesia," said CEO Albright. "With this investment, we will have worked together on projects worth, in total, over $1 billion. The compact signed today will focus on sustainability and scalability, improving the country's resilience against climate change and other external shocks while creating more opportunities for business owners to access market capital."
The Indonesia Infrastructure and Finance Compact, which includes an additional $49 million contribution from the Government of Indonesia, aims to improve access to finance for the country's transport and logistics infrastructure and MSMEs, especially those owned by women.
"Indonesia is taking crucial action to build a robust financial environment, promoting economic growth that benefits everyone." added Minister Mulyani. "I am excited to see how our joint efforts will continue to strengthen economic security for current and future generations of Indonesians."
The Indonesia Infrastructure and Finance Compact consists of three projects:
The Advancing Transport and Logistics Accessibility (ATLAS) Project will work with five provincial governments – South Sumatra, North Sulawesi, Riau, Riau Islands and Bali – to improve infrastructure planning and preparation at the sub-national level, where transport and logistics are more constrained. The resulting projects will improve access to employment opportunities for Indonesians and the accessibility of transport services for women and disabled passengers.
The Access to Finance for Women-owned/Micro-, Small and Medium Enterprises Project aims to increase formal lending services to MSMEs, especially those owned by women. The project will also provide business training, including digital and financial literacy trainings, and technical assistance to improve credit worthiness and investment readiness.
The Financial Markets Development (FMD) Project will provide technical assistance and blended finance grants to increase the participation of private sector or commercially oriented finance in infrastructure investments. This will help the government of Indonesia to form new partnerships and unlock existing money to fund lower-risk, high-quality infrastructure projects.
MCC and the Government of Indonesia first partnered in 2006 with a $55 million threshold program to reduce corruption and bolster immunization rates. In 2011, MCC and the Indonesian government partnered again through the $474 million MCC-Indonesia Compact program focused on health and nutrition, sustainable land and energy management, and modernized government procurement.
The Millennium Challenge Corporation is an independent U.S. government agency working to reduce global poverty through economic growth. Created in 2004, MCC provides time-limited grants and assistance to countries that meet rigorous standards for good governance, fighting corruption and respecting democratic rights.