Press Release
MCC and Mongolia Break Ground on $93 Million Infrastructure Project
For Immediate Release
August 20, 2021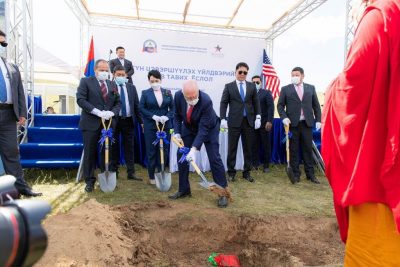 WASHINGTON, D.C. (August 20, 2021) – The government of Mongolia and the U.S. government's Millennium Challenge Corporation (MCC) broke ground today on a $93 million Advanced Water Purification Plant (AWPP) in Mongolia's capital city of Ulaanbaatar.
The President of Mongolia Ukhnaagiin Khurelsukh invited U.S. Ambassador to Mongolia Michael Klecheski, MCC's Deputy Resident Country Director Eric Guetschoff, and members of the Millennium Challenge Account-Mongolia (MCA-Mongolia) to celebrate starting the first major infrastructure project in the $350 million Mongolia Water Compact.
"The U.S. government is supporting Mongolia's economic growth using grant financing when possible," explained Ambassador Klecheski, "because we believe that growing democracies benefit from programs that do not lead to too much debt."
The new state-of-the-art AWPP will supply up to 50 million cubic meters of water annually, boosting the bulk water supply production capacity in Ulaanbaatar by 65 percent over its lifetime. The AWPP is part of a phased, five-year compact that will ultimately increase Ulaanbaatar's water supply production capacity by 80 percent.
"Today marks a new chapter in the United States' partnership with the people of Mongolia," said MCC's Deputy Chief Executive Officer Alexia Latortue. "Once operational, this purification plant will help alleviate the strain on groundwater aquifers along the Tuul River and provide the critical water resources needed to support the everyday wellness and economic growth of Mongolians."
Along with the AWPP, MCA-Mongolia will also construct new groundwater wells downstream from Ulaanbaatar; construct a new wastewater recycling plant and pipelines to provide high-quality treated water for industrial use; as well as increase the country's institutional capacity, and the long-term sustainability of Ulaanbaatar's water supply, through reforms and technical assistance.
In less than three decades, the population of Ulaanbaatar has nearly tripled in size; however, the water supply has remained the same, creating the conditions for a severe water crisis. The MCC-Mongolia Water Compact will build the critical infrastructure necessary to sustain this limited natural resource, positively impacting more than 55 percent of Mongolia's population.
The Millennium Challenge Corporation is an international development agency of the U.S. government, working to reduce global poverty through economic growth. Created in 2004, MCC provides time-limited grants and assistance to countries that meet rigorous standards for good governance, fighting corruption and respecting democratic rights.
###