Press Release
MCC Official Visits Indonesia to Review Compact Progress
For Immediate Release
December 6, 2017
WASHINGTON, D.C., December 6, 2017 – Millennium Challenge Corporation (MCC) Regional Deputy Vice President Fatema Z. Sumar visited Indonesia this week to meet with senior Indonesian Government officials and the Millennium Challenge Account Indonesia Board of Trustees to review compact progress and focus on sustaining gains ahead of the program's closure next year.
Ending in April 2018, MCC's compact with Indonesia is helping to reduce childhood stunting and malnourishment, increase renewable energy and natural resource management, and modernize the government's procurement system for public goods and services. The program closely aligns with the Government of Indonesia's efforts to drive inclusive growth and fight poverty.
"As the largest economy in Southeast Asia, Indonesia is an important partner for MCC and the United States," said Sumar, who oversees MCC's investments in Europe, Asia, the Pacific and Latin America. "This compact is an ambitious program, and we look forward to continued collaboration with the Government of Indonesia to bring our work to the finish line to support long-term economic growth and continued prosperity for the country's people."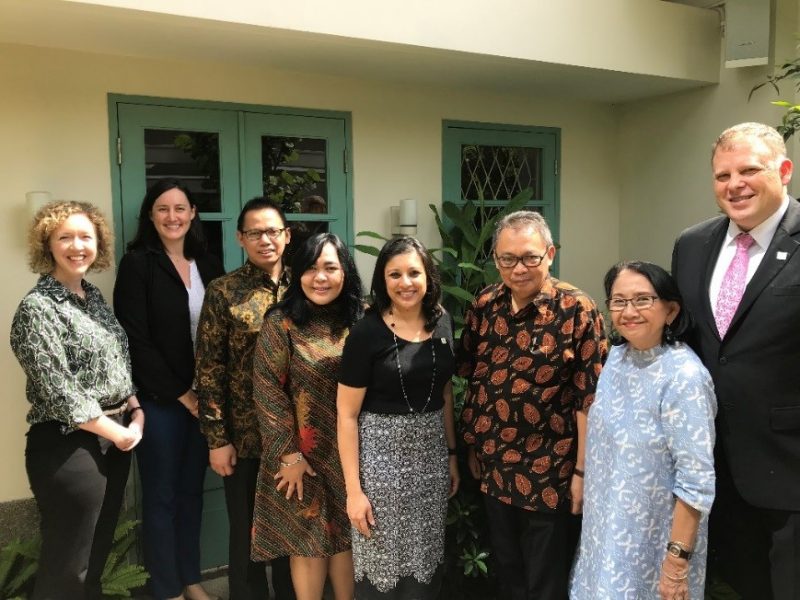 An archipelago of more than 17,000 islands, Indonesia is the fourth-most populous country in the world and a key U.S. partner in Southeast Asia. Approximately 41 million people in Indonesia live below the international poverty line of $1.25 a day.
"The MCC model brings more understanding to the Government of Indonesia, civil society and the private sector," said Ibu Tini Hadad, Millennium Challenge Account Indonesia Board representative for civil society. "By prioritizing broad stakeholder participation, the program ensures inclusive poverty reduction and creative approaches to economic growth. The MCC compact has introduced new ways to help Indonesia achieve greater growth and prosperity."
During her visit, Sumar received updates on the compact's three projects:
The Procurement Modernization Project is helping the Government of Indonesia achieve significant savings in delivering quality procured goods and services to the Indonesian people. Before MCC's investment, there were no public procurement professionals in Indonesia and the position did not exist in government. Today, more than 500 procurement professionals from national and local governments are being trained in modern procurement and management skills to improve procurement practices. This is not only strengthening the Government's ability to deliver key public goods and services to its people, but also reducing fraud and waste.
The Green Prosperity Project is funding renewable energy efforts, peatland restoration, and other natural resource management that are increasing productivity, reducing reliance on fossil fuels, and lowering energy costs. Project activities are together leveraging $40 million in private sector investment in Indonesia. On December 8, MCC will celebrate the commissioning of a community-owned solar photovoltaic project on Karampuang Island. The $6 million project, delivered by PT. Sky Energy Indonesia, will provide nearly 600 kW to four communities on the island and is expected to benefit more than 3,300 people.
The Community-Based Health and Nutrition to Reduce Stunting Project is building the capacity of local governments to improve overall healthcare delivery and reduce and prevent low birth weight, childhood stunting and malnourishment. The project includes a partnership with the private sector to target 5,400 villages across 11 of Indonesia's 34 provinces. The investment has led to the revision of seven Ministry of Health technical guidelines that provide professional reference standards and guide trainings and service provision. And by the compact's close, nearly 400,000 pregnant women across the country will have received a 90-day supply of iron folic acid tablets to support their nutritional needs.
MCC's time-limited grant investments promote economic growth and help people lift themselves out of poverty, creating more stable, secure countries and new business opportunities. A local accountable entity set up by each partner country government, known as a Millennium Challenge Account, is responsible for compact implementation with oversight by MCC.
Learn more about MCC's investments in Indonesia. For additional information, contact MCC at press@mcc.gov.
###
The Millennium Challenge Corporation is an independent U.S. Government agency working to reduce global poverty through economic growth. Created in 2004, MCC provides time-limited grants and assistance to poor countries that meet rigorous standards for good governance, from fighting corruption to respecting democratic rights. Learn more about MCC at www.mcc.gov.