Roads and Transportation Infrastructure
3,035

kilometers of roads completed

52,472

temporary employment generated in road construction

$2.5 billion

value of signed road construction contracts
As of 3/10/21 11:00 am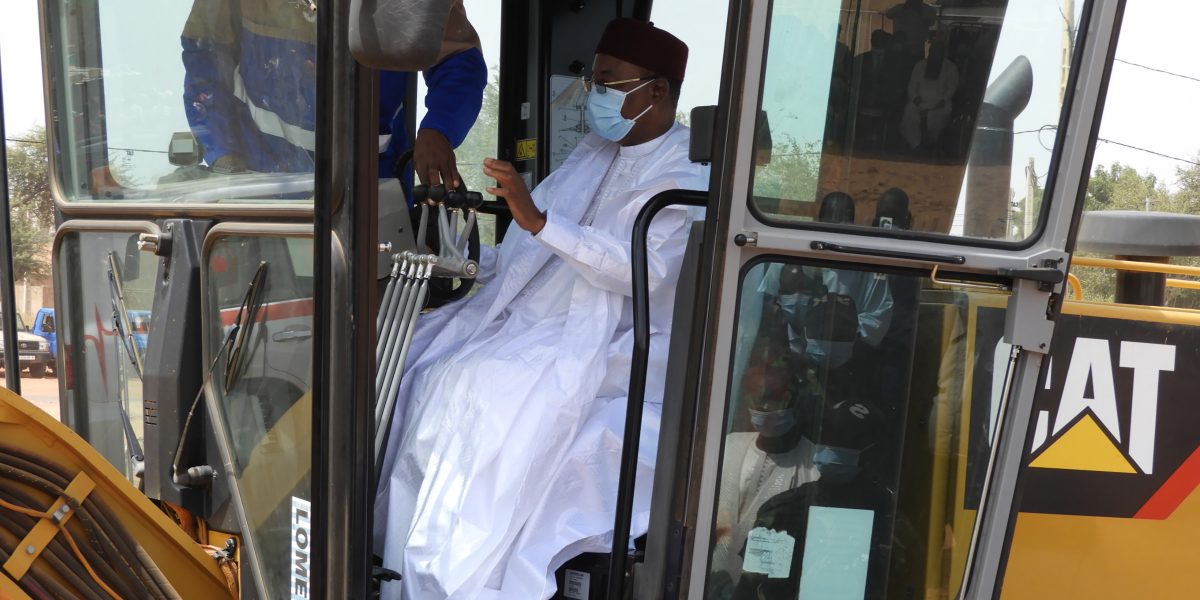 Safe and reliable roads and other transport investments help reduce barriers to growth and create opportunities for people and communities. Investments in transportation systems advance market-based economic and social opportunities, including employment, high-return producer goods markets, low-cost consumer goods and retail markets, and improved access to public services like healthcare and schools.
Well-maintained transportation infrastructure like roads, airports, bridges, and ports also facilitates local, regional, and international trade, which enables long-term economic growth and encourages private sector investment. With the high cost of transport investments, MCC's cost-benefit analysis, data-driven decision-making, and partnership with stakeholders is critical to ensure the sustainability of its work in this important sector.
MCC works closely with its partner countries to identify the most binding constraints to economic growth and poverty reduction to determine where to invest. Many partner countries have prioritized transportation infrastructure, and since its founding in 2004, MCC has invested nearly $3 billion in transportation projects. MCC is one of the leading donors in the transportation sector and is often the lead funder of road programs in our partner countries.
Over the last decade, MCC has:
Financed road projects across 17 compacts in 16 countries;
Built, rehabilitated, or upgraded over 3,500 kilometers of roads, with an additional 300 kilometers in progress;
Invested in institutional strengthening for road planning and maintenance across five compacts;
Reduced the time and cost of travel along road segments in Armenia, El Salvador, Georgia and Honduras as verified by independent evaluations; and,
Helped governments implement policy and institutional reforms so they can effectively manage and sustain resources.
Active Programs
Côte d'Ivoire
MCC and the Government of Côte d'Ivoire are developing a compact to diversify the country's economy to boost economic growth. The Abidjan Transport Project within the compact is designed to increase the competitiveness of Abidjan, the country's economic hub, by improving the mobility of goods and people. The project is expected to include infrastructure investments to improve traffic flow and reduce traffic congestion in central corridors of the city that connects the Port of Abidjan to the north, west, and east. These investments are complemented by policy and institutional reform, including road maintenance and oversight and transport management and planning activities. The project is expected to benefit approximately 8.8 million people over 20 years.
Guatemala
The Guatemala Threshold Program includes a resource mobilization project that is supporting the Government of Guatemala's efforts to finance infrastructure projects, including an airport and light rail, through public-private partnerships. Attracting private funding frees up limited public funding so the Guatemalan Government can focus on delivering key services to its people. MCC's Guatemala investment is designed to increase the country's revenue and reduce opportunities for corruption in customs and tax administration, attract more private funding for infrastructure, and provide Guatemalan youth with the skills they need in the job market.
Liberia
Road activities in MCC's Liberia Compact are focused on strengthening national road maintenance systems and sector policies. The compact's Roads Sector Reform Activity provides training and technical assistance in maintenance planning, policy, and institutional systems to the Ministry of Public Works and National Road Fund Administration. The National Road Maintenance Activity funds periodic road maintenance works through an incentive matching fund, with MCC matching government contributions on a one-to-one basis up to $15 million during the compact, subject to performance on maintenance planning, capacity and implementation. As a condition of the investment, MCC and the Government of Liberia have agreed to establish a National Road Fund to ensure adequate resources are dedicated to sustaining road maintenance across the Liberian road network after the compact comes to an end.
Nepal
Nepal – one of the poorest countries in Asia – faces extensive economic development challenges, including high transportation costs to move both goods and people. Decades of political transition and the devastating earthquakes of 2015 further compounded Nepal's development challenges. MCC's Nepal Compact, signed in September 2017, will address the high cost of transportation, one of the country's constraints to economic growth, through an investment in road maintenance. The objective of the compact's Road Maintenance Project is to maintain road quality across the strategic road network. The project will focus on improving Nepal's road maintenance management and includes an incentive-matching fund to maintain up to 300 kilometers of roads while increasing the Government of Nepal's budget for road maintenance.