Niger Compact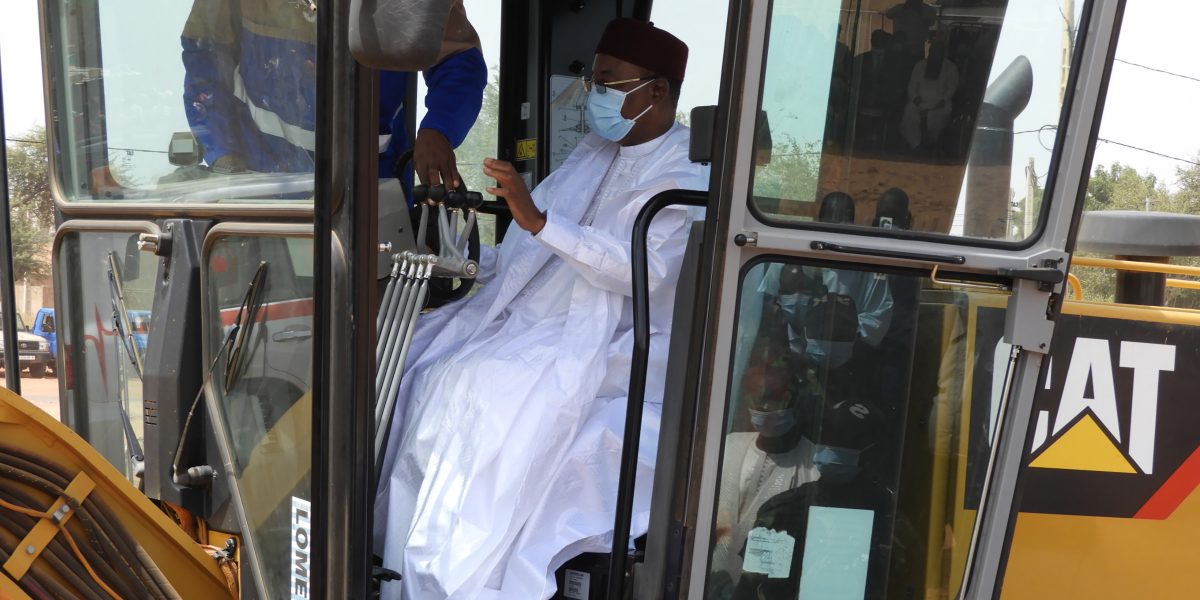 MCC's $437 million compact is addressing two major constraints to economic growth and investment in Niger: lack of access to water for productive uses and physical access and institutional barriers to trade. In partnership with the Government of Niger, the MCC compact is increasing rural incomes by improving the sustainable productive use of natural resources for agricultural production and improving trade and market access for agricultural products. The compact has the potential to benefit approximately 3.9 million people.
In Niger, the agricultural sector employs more than 80 percent of the population and represents the second-largest export sector. However, due to frequent drought and floods that decimate crops and productive assets, much of the Nigerien population struggles to maintain a subsistence existence, let alone increase household incomes. Although poverty trends are slowly improving, with a climate prone to volatile weather conditions and a lack of access to critical inputs and information, agricultural productivity has stagnated. The compact includes investments in irrigation infrastructure and management systems, climate-resilient agricultural production, upgraded roads to improve market access, and management of natural resources, while seeking to empower entrepreneurs and smallholder producers.
The Government of Niger is committed to carrying out the reforms necessary to improve water and agricultural systems policy and increase private sector participation.
Financials
Financials as of December 31, 2020
Milestones
Entry Into Force:
January 26, 2018
Signed:
July 29, 2016
Compact Projects
Climate-Resilient Communities
$98,599,613

Project Total Amount

$37,091,714

Project Amount Committed

$21,689,175

Project Amount Expended
The Climate-Resilient Communities (CRC) Project aims to increase incomes for small-scale agriculture- and livestock-dependent families in eligible municipalities in rural Niger. The project will improve crop and livestock productivity, sustain natural resources critical to long-term output, and increase sales of targeted commodities. The project is being implemented in coordination with the World Bank.
The CRC Project will support nomadic herders and enhance regional integration by improving livestock health, upgrading water and rangeland resources along major livestock corridors, and modernizing local livestock market infrastructure.
The project also supports sustainable increases in farm productivity and income generation by strengthening the resiliency of farmers and agro-pastoralists to climate shocks through an integrated climate-resilient investment plan. Furthermore, the program also provides eligible farmers and agriculutral enterprises with grants to enhance their productive assets.
MCC regions of intervention for this project are, among other areas, Tillaberi, Dosso, Tahoua and Maradi.
Progress and Achievements to Date
To date MCA-Niger has completed the development and validation of the Integrated Climate Resilient Investments Plans (ICRIPS) in 16 communes and has signed contracts for the implementation of natural resource management restoration and conservation activities which will cover will support the restoration and conservation of about 5,400 hectares of pasture lands and about 55,000 hectares of agriculture land.
Projected Long-Term Results
Irrigation and Market Access
$257,714,000

Project Total Amount

$173,785,021

Project Amount Committed

$46,411,315

Project Amount Expended
Through the compact's Irrigation and Market Access Project (IMAP), MCC is partnering with the Government of Niger to make investments in infrastructure, human capacity, and market and performance-oriented management systems to enable Niger's farmers to move toward more commercialized irrigated agriculture as the foundation for sustained growth in rural incomes.
Investments in irrigation infrastructure, including the rehabilitation of a large-scale irrigation system in the Tahoua region and the development of small-scale irrigation systems in the Dosso region, will result in increased water availability for farmers during the wet and dry seasons, which will in turn increase crop production and rural income.
Upgraded road networks that are linked to the irrigation perimeters will allow project beneficiaries to more effectively access inputs to improve production, such as fertilizer and seed, and markets to sell their increased crop production.
IMAP is also providing technical training in water and natural resource management, savings, improved production and processing techniques, marketing, literacy, numeracy, nutrition, sanitation, hygiene education and other complementary skills. This training enables farmers, both women and men, in the irrigated perimeters to utilize the water more productively while minimizing health risks associated with using water points for agriculture, livestock and domestic purposes.
In addition, the project is undertaking several major policy reforms including the development of a new national water resource management plan, new natural resource and land use management plans for the irrigation investments, and a new national fertilizer distribution strategy to empower the private sector by creating space for competition that will lead to more affordable and higher quality fertilizer that is delivered to farmers when they need it.
Progress and Achievements to Date
To date, a contract to rehabilitate the large-scale irrigated perimeter has been awarded and is currently underway; detailed land tenure inventories have been carried out and land tenure security arrangements are in place; and newly formed water user association and farmer cooperative organizations have been established. For the small-scale irrigation intervention, initial land tenure inventories are in progress. A national groundwater resources survey utilizing remote sensing technology has been completed and a phase two more detailed survey will begin in 2021.
In addition, a contract to prepare a groundwater model in support of the small-scale irrigation investments has been awarded. Detailed designs for road rehabilitation were completed and two road rehabilitation contracts, including performance-based maintenance periods, have been awarded and mobilization is in progress.
Projected Long-Term Results