Partnership Annual Program Statement (APS)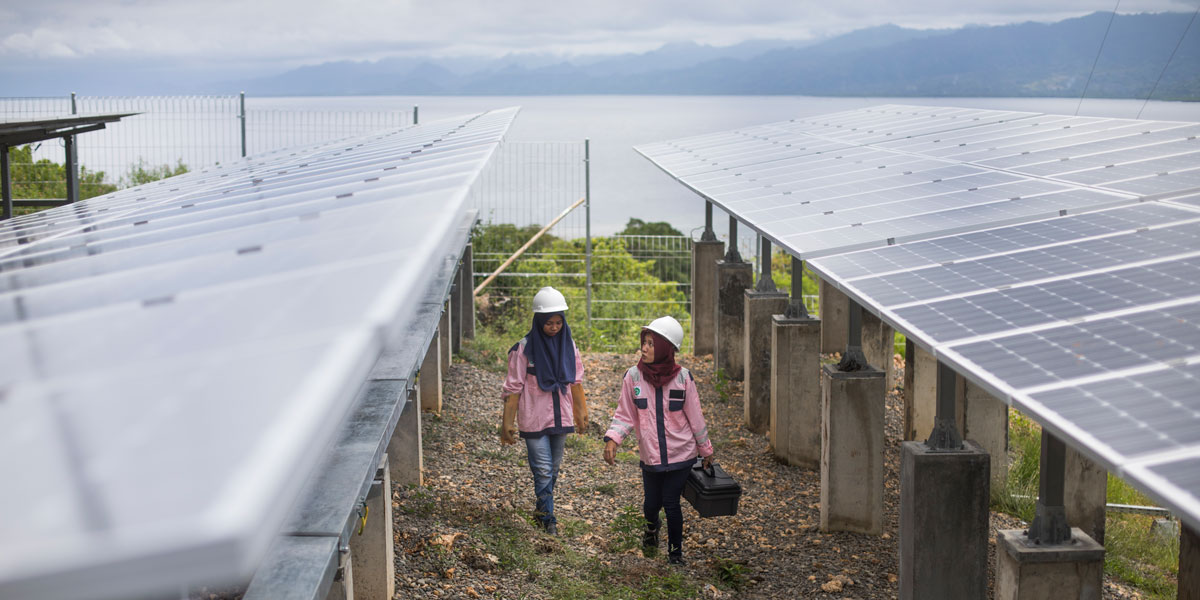 Partnership through the APS
MCC's Partnership Annual Program Statement (APS) is the agency's primary mechanism by which we co-create, co-fund, and co-implement partnerships that support MCC's ability to design programs, utilize new approaches for due diligence, and monitor and evaluate programs.
MCC invites organizations to submit concept notes that bring new ideas, technologies, or practices to partner with us in addressing specific challenges or opportunities as outlined in the APS.
Interested parties are encouraged to form groups where teaming would help to provide a more comprehensive set of capabilities relative to the partnership opportunity.
The APS is used to provide open, fair and transparent competition of funded partnership opportunities to which MCC will be party and to which MCC and partners will contribute financial resources. Opportunities partially funded by MCAs can be found in the Do Business with MCAs page. Opportunities where partners provide their own financial resources to engage in shared efforts with MCC or MCAs, without receiving funding from MCC or MCA, can be found on our Partner With Us page.
Current APS Opportunities
The current APS announcement period is March 26, 2019 to March 31, 2023.
MCC invites concept papers for APS partnership opportunities 11 and 12. Additional partnership opportunities may be added over the course of the APS announcement period.
Partnership Opportunity 12: Shared Learning Agenda and Multi-stakeholder Collaboration in the Areas of Financial Inclusion for MSMEs and Transportation Infrastructure in Indonesia
Summary: MCC is presently working with the Government of Indonesia (GOI) to develop a compact including the following two projects in the priority provinces of North Sulawesi, South Sumatra, Bali, Riau Islands and Riau: (i) access to finance for infrastructure, particularly transport and logistics infrastructure, and (ii) access to finance for micro-, small-, and medium-sized enterprises ("MSMEs"), particularly those owned by women. MCC seeks a Learning Collaboration Partner with which to collaborate and jointly define and implement a shared learning agenda for collaboration that engages multiple stakeholders in Indonesia in the areas of financial inclusion for MSMEs and transportation planning. The Learning Collaboration Partner will collaborate with MCC staff in undertaking at a minimum one research effort involving data collection, analysis, and presentation, organizing quarterly meetings of the stakeholder forum in Indonesia and one effort to convene policy discussions on a specific policy recommendation arising from existing or planned research. Generally, the scope is expected to include the following two components that would apply to both topic areas (MSME access to finance, transport planning):
Research component
Synthesizing existing research
Enumerating stakeholder lists and gauging interest in continued participation
Conducting new qualitative and or quantitative data collection efforts, particularly if additional funding sources become available to the partnership
Collaboration component
Consistent, routine convening and presentation of evidence to stakeholders
Periodic "conferences" or larger dissemination events of some sort
Specific, focused advocacy efforts around particular policy priorities based on evidence and in collaboration with specific groups in the GOI and civil society.
The anticipated timeframe for the partnership(s) is three years.
Concept Paper Due Date: April 25, 2022, 5:00 pm ET
Estimated Federal Budget: $500,000 USD
Partnership Opportunity 11: Integrated Environmental-Economic Modeling
Summary: Collaborative research efforts in recent decades have brought about considerable advances across the development and scientific communities in understanding interactions between ecosystem services and economic activity, approaches to improved management and use of natural capital, and the benefits of increased resilience to the impacts of climate change. MCC is seeking a partnership on Integrated Environmental- Economic Modeling to advance the analytical frontier for integrated quantitative environmental and economic modeling in support of development planning. The aim of such modeling is to support a rigorous scenario-based characterization and order-of-magnitude quantification of environmental costs and benefits, especially those climate-related. To develop an initial proof of concept in advance of public domain applications, MCC seeks a technical partner to collaborate with MCC staff in undertaking the following anticipated activities:
Identifying an existing modeling framework or platform offering the essential functionalities on which this Partnership can build;
Articulating enhancements to the modeling framework's specifications and capabilities that tailor its applicability to national-level analyses of constraints to growth as an element of development planning;
Refining, adapting, and augmenting the modeling framework to deliver outputs and insights addressing key questions arising in identifying and prioritizing constraints to growth; and
Developing a practical deployment plan.
The anticipated timeframe for the partnership(s) is three years.
Concept Paper Due Date: April 18, 2022, 5:00 pm ET
Estimated Federal Budget: $750,000 USD
To learn more about the APS, please see the Partnerships with MCC Program APS on grants.gov, the definitive source for information and guidance related to opportunities and how to apply. Please send any questions or general correspondence about the APS to MCC by email.
How the APS Works
The APS partnership process can be broken down into six high-level steps:
Organization submit concept note in response to MCC partnership opportunity statement posted on grants.gov
MCC reviews concept note against criteria
Organization and MCC engage in collaborative co-creation session(s)*
Organization completes full application*
MCC reviews full application against criteria
Organization and MCC enter into partnership*
*Steps listed above with an asterisk are by MCC invite only for successful applicants.
Recent APS Opportunities
MCC's partnering interests for partnership opportunities listed below have been met and MCC is no longer accepting concept papers for these opportunities. The information below is provided for reference.
Partnership Opportunity 10: Women's Data Lab and Network (WDLN) Project in Côte d'Ivoire Increasing
Summary: MCC is seeking to partner with an international, West African regional or local Ivorian, or multiple organizations which come together to form a consortium, to finalize the design and implement the "Women's Data Lab and Network" (WDLN) Project in support of local entrepreneurs in Côte d'Ivoire. MCC is specifically interested in organizations that work with small- and medium-size enterprises (SMEs) – particularly women-owned or women-led SMEs (W-SMEs) and female innovators and entrepreneurs – and are interested in taking ownership of the WDLN program, refining its focus, driving results and assuring its sustainability. The WDLN program aims to empower women entrepreneurs and W-SMEs with digital and data skills to effectively participate in the digital economy and grow their businesses. In addition, WDLN will provide tailored resources, access to business information and mentors, and encourage the creation of W-SME networks.
The WDLN intends to achieve this vision with and through one or more locally-rooted organizations, developing a program that is self-sustaining – agile and continuing beyond the approximate 3 years of funding. Through WDLN, MCC is seeking to achieve the following outcomes:
W-SMEs gain digital and data literacy skills and tools and use them to manage and grow their businesses.
W-SMEs grow and advance to the next stages of business maturity.
New W-SMEs emerge from a pipeline of female entrepreneurs.
A subset of W-SMEs benefit from Microsoft 4Afrika engagement and/or other regional programs.
The WDLN continues to support W-SMEs after the program ends.
Note: For this WDLN opportunity, MCC will host a virtual conference prior to the Phase I Concept Papers are due. This conference will occur on April 20, 2021 (Tuesday), 11:00am to 12:00pm ET. All applicants are encouraged to attend. Interested applicants shall email Mohammad K. Ayub, Agreement Specialist (contractor representing MCC), and Andrew E. Lee, Agreement Officer, by April 16, 2021, 11:59pm ET with the following information:
Entity name;
Attendee(s) name(s) and title(s);
Attendee(s) email address(es); and
Any questions you would like MCC to address during the conference.
MCC will send a meeting invite on April 19, 2021 (Monday) to those interested applicants.
Concept Paper Due Date: May 7, 2021 (Now Closed)
Estimated Federal Budget: $2,500,000 USD
The following organizations submitted Concept Papers in response to this partnership opportunity:
Adei Foundation
Center for International Private Enterprise (CIPE)
Club Africain des Entrepreneurs
Dabre Family Services International (DFSI)
Entrepreneurial Solutions Partners (ESP)
Fondation SEPHIS
Génération Femmes du Troisième Millénaire (GFM3)
Groupe Addict
INOVIS
International Strategic Management, Inc. (ISM)
Ivoirian Federation of Small and Medium Enterprises (FIPME)
JS Group
Keeram Technologies, Inc.
Keizene
Mayocreation
MobiCycle
Swiss Association for Entrepreneurs in Emerging Markets (SAFEEM)
TechnoServe, Inc.
MCC invited the following organizations to Stage II: Co-Creation:
Entrepreneurial Solutions Partners (ESP). Contact: Mr. Teddy ROUX, Project Lead, Director, West Africa, ESPartners
Swiss Association for Entrepreneurs in Emerging Markets (SAFEEM). Contact: Doris Clemenz, Global Projects
MCC awarded the partnership to: The partnership agreement is still pending.
Partnership Opportunity 9: Increasing Access to Rural Infrastructure
Summary: Isolation caused by lack of transportation infrastructure affects almost every facet of life for the rural poor. The scope of this proposed partnership is to identify and develop complimentary opportunities to increase access by rural poor to essential infrastructure and services. Potential partnership achievements include co-creation of novel tools that synthesize geospatial information systems with cost-benefit analyses and standardization of rural access infrastructure interventions such as rural schools. The primary goal of this partnership is to increase access to infrastructure by rural communities through last-mile pedestrian paths and bridges. MCC seeks partners with which to collaborate and jointly explore needs and potential solutions such as increased pedestrian access by future students (i.e., compact beneficiaries) of the New Secondary Schools for Equitable Access Sub-Activity of the compact with Côte d'Ivoire. The scope of this compact sub-activity includes the design, construction and equipping of between 74 and 84 new secondary schools, many of which are expected to be located in rural areas within the San Pedro and Gbeke regions of Côte d'Ivoire.
Concept Paper Due Date: May 7, 2021 (Now Closed)
Estimated Federal Budget: $335,000 USD
The following organizations submitted Concept Papers in response to this partnership opportunity:
Bridges to Prosperity
MCC invited the following organizations to Stage II: Co-Creation:
MCC awarded the partnership to:
Bridges to Prosperity. Contact: Alissa Davis, Director of Business Development
Partnership Opportunity 8: Community Engagement to Achieve Social License Agreements with Tourism Investors in the Solomon Islands
Summary: The Government of the United States of America, via the Millennium Challenge Corporation (MCC), and the Solomon Islands Government (SIG) expect to sign a Threshold Program Grant Agreement in 2021 totaling US $23 million to support a 4-year policy and institutional reform program that leads to a reduction in poverty through economic growth. The 4-year timeline for the Threshold program is expected to begin in 2021. Using this Partnership Opportunity Statement, MCC seeks a partner (henceforth referred to as the "Community Engagement Partner") with which to collaborate and jointly define and implement an approach to achieve the Community Engagement objectives related to social license agreements between investors and communities around the use of land under the Accessing Land for Tourism Investment Facilitation (ALTIF) Project, Land Identification Activity. Achieving and maintaining agreements between an investor and community around social license is critical to the viability of any tourism investment in Solomon Islands; without agreement on social license that is long lasting and built on trust, no tourism investment will be viable. MCC seeks to partner with an organization that can work with communities in the Solomon Islands, the Solomon Islands Government, and other implementing partners to establish social license agreements around tourism investments.
Concept Paper Due Date: May 21, 2021 (Now Closed)
Estimated Federal Budget: To be discussed during Stage II, Co-Creation
The following organizations submitted Concept Papers in response to this partnership opportunity:
Live &Learn Environmental Education (Australia)
Tetra Tech
MCC invited the following organizations to Stage II: Co-Creation:
MCC awarded the partnership to: The partnership agreement is still pending
Partnership Opportunity 7: Fiscal Analysis Partnership
Summary: Fiscal policy is the most powerful tool democratic governments have to reduce poverty through growth. The analytic tools that MCC deploys to advance its mission focus on relaxing the binding constraints on economic growth, promoting efficiency through rigorous cost-benefit analysis, and achieving a required minimum rate of return. MCC seeks to partner with institutions that have specialized capacity and expertise with developing and deploying tools for fiscal analysis in low and lower-middle income countries. Through partnership, MCC aims to analyze the effects of public expenditure and revenue mobilization across income levels so that consideration of inclusiveness and poverty reduction potential can be better integrated into early project development; investigate opportunities to further disaggregate analysis of effects by region, gender, and other population characteristics to better inform decision making in project design and policy choice; incorporate these analyses during the project development process to ensure economic growth driven by investments is pro-poor, inclusive, and promotes gender equity; and expand learning opportunities across the development community regarding incidence analysis and the impact of policy design on development outcomes.
Due Date: May 18, 2020 (Now Closed)
Partnership Opportunity 6: Strengthening Evidence and Economic Modeling Partnership
Summary: MCC faces a demanding, yet opportune challenge: In order to effectively implement its core methodology – evidence-driven decision making – it must continually absorb and apply a burgeoning body of external evaluation and scientific evidence to inform and improve its investment decisions. MCC seeks to partner with one or more leading institutions to gain provide real-time engagement on available evidence and expertise related to evaluation and applied development economics to raise the quality and quantity of evidence used to inform MCC's evaluation and investment practices.
Due Date: May 17, 2019 (Now Closed)
Partnership Opportunity 5: Geospatial and Earth-Observation Analyses for Africa
Summary: Rapidly improving the capabilities to process and analyze geospatial and earth-observation data by key country counterparts (i.e. local skill base), coupled with opening of significant data sets, have set the stage for important advancements in the use of this data for making better development decisions and driving economic outcomes. MCC has the opportunity to participate in these advancements and to use them to enhance its work by being open to partnering with those already working in this space, and to providing some co-funding for these opportunities. MCC is interested in collaborating with partners to enable the of use earth-observation and geospatial data sets by country-based stakeholders, as a way to innovate the methods used by the agency and its partner countries.
Due Date: May 15, 2019 (Now Closed)
Partnership Opportunity 4: Collaborative for Data Science in Africa
Summary: MCC seeks partners that would be interested in enabling greater collaboration among emerging data science training efforts and centers in Africa, such as the Tanzania Data Lab, the Sejen Virtual Lab in Cote d'Ivoire, a similar such center being considered in Lesotho, and the Kenyan "Africa Data hub" amongst others. Specifically, the partnership would seek to leverage third-party funds; tools, equipment and software; and/or expertise to support collaboration amongst these centers of data skill-building. Objectives of the collaboration would be to encourage standardization of the technology (systems, telepresence capabilities) and interoperability, enable uniform approaches to curriculum to help optimize cost and efficiency of training; and/or scale these efforts by supporting or seeding additional locations of data skill-building in strategic locations, and ensure social inclusion. As data supply, technology, mobile assets continue to increase, this partnership would provide a much needed coordination and scaling of efforts to build a data culture and data science skills in Africa.
Due Date: May 15, 2019 (Now Closed)
Partnership Opportunity 3: Women's Entrepreneurship Partnerships
Summary: Summary: MCC seeks partners interested in working with us to help MCC successfully and sustainably address the barriers to women's (and ideally youth) entrepreneurship and sustainable business growth in compact countries, starting with Lesotho, Tunisia and Timor-Leste. MCC would like to work in partnership to adapt and test models and tools in Lesotho, Timor-Leste and potentially Tunisia, contributing to MCC's due diligence in the development of interventions. MCC is interested in testing options for interventions that could, through subsequent activity, be scaled up and evaluated at a later stage of the compact. Ideally, impact evaluation planning would also be part of this due diligence work so that the work can contribute to a broader learning agenda. This might include economic analysis to estimate ex-ante and ex-poste the benefits to individuals and households from interventions.
Due Date: May 15, 2019 (Now Closed)
Partnership Opportunity 2: Environmental Economics Partnership
Summary: MCC seeks partners to enhance analytical capabilities in various subfields of environmental and natural resource economics, including water resources, natural resource accounting, and climate change. The wide array of research findings, experiential knowledge, and analytical and empirical tools in these subject matter areas has expanded dramatically in recent years. Such resources include geospatial data, analytical frameworks and models, computing and communications technologies, and algorithms. MCC wishes to partner to more effectively access cross-disciplinary advances in modeling climate impacts and ecosystems services benefits. MCC seeks, moreover, to more systematically integrate these considerations in the agency's project assessment methods and economic analyses while contributing to the broader advancement of environmental economics in international development.
Due Date: May 17, 2019 (Now Closed)
Partnership Opportunity 1: Empowering African Women through Data Skills
Summary: MCC seeks co-funders and consortia partners to blend resources and work jointly on enabling the use of data by and for women's economic empowerment in partner countries, and initially in Cote d'Ivoire and Lesotho. The "use of data" in this context pertains to a broad spectrum of activities from simple numeracy and data literacy to data preparation, visualization, and complex data analytics and data science, irrespective of sectors since the tools and methods to process and analyze data at each level are transferable – and aims to increase the fraction of women with skills in the growing global digital economy.
Due Date: May 15, 2019 (Now Closed)