A Nigérien Entrepreneur Finds Her Niche in Camel Milk
January 29, 2018
Kyeh Kim, Principal Deputy Vice President, Department of Compact Operations
Last month, I travelled to Niamey, Niger's capital, where MCC Country Team Lead for Niger Kristin Penn and our Nigérien partners are hard at work on MCC's $437 million compact to improve access to water for agriculture and livestock and expand access to markets.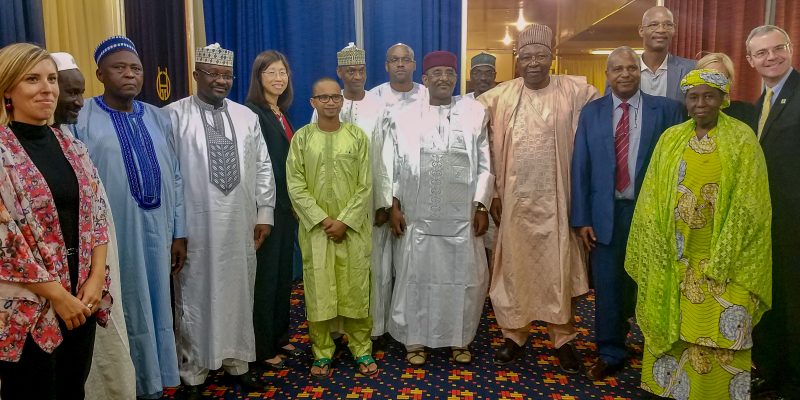 Around 80 percent of Niger's population relies on the agricultural sector for its livelihood. MCC's compact, which entered into force on January 26, 2018, is a truly far-reaching investment in a vital sector in one of the poorest countries in the world.
The compact will be implemented by a Nigérien entity, and I was in Niamey for a meeting of its board, which includes public and private sector representatives.
For me, the most memorable part of the trip was meeting Wouro Habsatou Aboubacar, a dynamic entrepreneur who runs a thriving camel ranch outside of Niamey, near a village called Youri.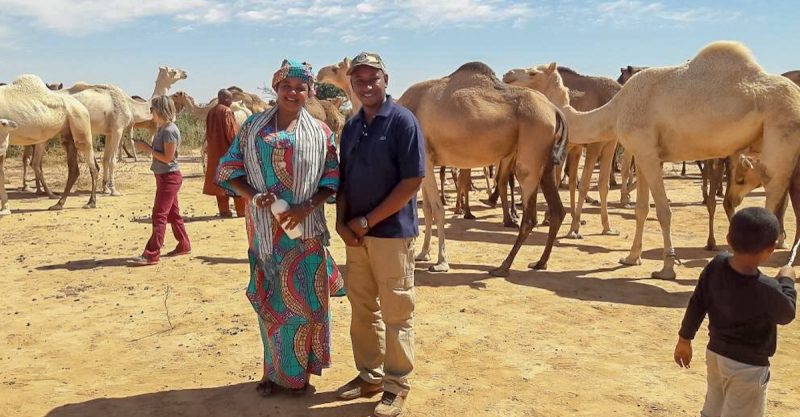 "Since I was young, I have always loved camels. I wanted a business that I loved, that was unique and was profitable, so I could contribute to meeting my family's needs," she told us.
Camels are prized in Niger because they serve as a means of transport and are also a source of milk and meat.
Habsatou started with one camel when she was a teenager and set about realizing her dream of growing a herd. She saw an opportunity in nutritious camel milk, which is in high demand and fetches a good price. And so she began selling camel milk door to door.
Access to finance is a major obstacle in Niger, especially for women entrepreneurs like Habsatou. She was fortunate to secure a loan from ASUSU, a Niger-based microfinance institution, and repaid it in a year. This enabled her to secure another loan, which she again repaid on time, helping her establish a good reputation with ASUSU and grow her camel herd.
Today, she has more than 100 camels and employs workers to help manage her herd and collect, process and market the milk. She supplies milk to grocery stores in the capital and has ambitious plans to expand.
"My vision is of owning and operating a modern cattle ranch and camel milk processing enterprise where I not only use my camels' milk but also milk from camels owned by other households," she said.
Habsatou is in the process of investing in a camel milk collection center and in expanding her processing capacities to be located near the Youri market, not far from her ranch. She is creating a network of camel milk suppliers in the area — mainly women — who will bring their camel milk to the center to be processed and packaged for sale in local markets, including Niamey, where they already have a retail outlet and distribution contracts with several grocery stores.
Habsatou is a potential beneficiary of MCC's investments in Niger's agricultural sector. MCC is partnering with the World Bank to improve livestock value and sales, including by conducting a livestock health and vaccination campaign, undertaking critical upgrades in water points, and supporting women's groups interested in investing in dairy collection, processing and marketing. Habsatou and others could benefit from business development services as well as planned public investments in market platforms, water points and pastureland rehabilitation financed by this activity.
Commercializing the processing and distribution of camel milk is a relatively new concept in Niger, so Habsatou faces several challenges. First, she needs to convince other camel milk producers, some with no experience of working in a group organization, to join her. Second, she and her partners need to secure commercial financing and modernize their operations. Funds from a grant facility that will be established by the MCC compact could potentially assist them with purchasing new technology, advancing and expanding their business to include more households, and developing their marketing strategy.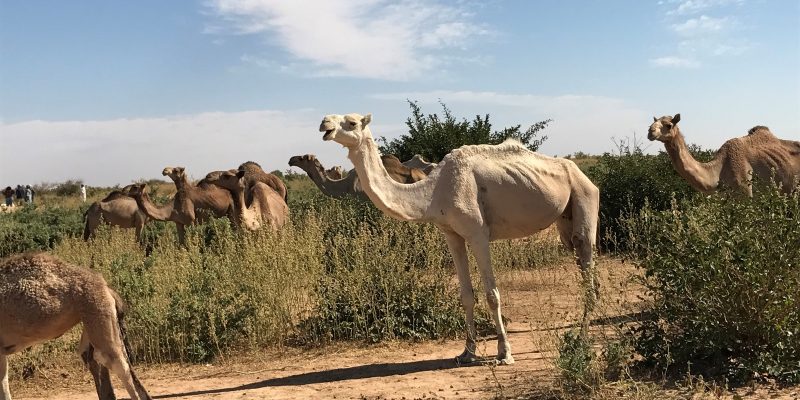 "I feel the main constraint to realizing my business vision is my ability to modernize. Mauritania and Morocco have modern camel milk operations and make a variety of products. I want to lead the transfer of this technology and business to Niger. I just don't know how and need guidance," she said.
Habsatou credits her parents and husband for encouraging her to pursue her dreams even though it was unusual for a woman to go into the camel business. As the parents of three boys and one girl, Habsatou says that she and her husband are trying to provide the same sort of encouragement that she received to all of their children.
She is optimistic about more women joining the camel milk business. "There is room for more women to participate and profit. Bringing modern technology in production and processing here could unlock this potential," she said.
I was inspired by Habsatou's hard work, ingenuity, enthusiasm and optimism. Her story is an example of why it is important to empower entrepreneurs to grow their successful agricultural and livestock businesses that create jobs and serve their communities.