MCC Once Again Ranks #1 on Results for America's Annual Evidence Index
December 18, 2020
Katherine Dunning, Director, Results and Learning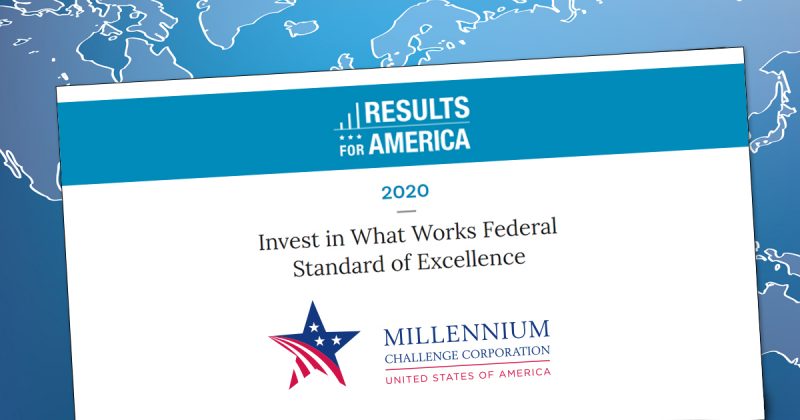 MCC has an ambitious mission: reducing global poverty through economic growth. We also have a time-tested approach for tackling this mission—relying on evidence. Strong data and evidence-based decision making are among MCC's founding principles and our consistency in applying these principles to our work can be seen in our high score once again on Results for America's 2020 Invest in What Works Federal Standard of Excellence. The report, an annual review of how nine federal agencies are using evidence and data to get better results, gives MCC a score of 82, the highest score of the nine agencies—for the fifth year in a row.
The report was released at the 2020 Invest in What Works Federal Standard of Excellence virtual event on December 3, 2020. The event highlighted how the nine federal agencies featured in the report—which oversee more than $220 billion in federal investments annually—are building the infrastructure necessary to use evidence and data in their budget, policy, and management decisions. Agencies featured alongside MCC include USAID, the Department of Labor, the Department of Education, and AmeriCorps, among others.
The report places special emphasis on MCC's advancements in ensuring evidence is not only created, but also used. Indeed, MCC scored top marks in the "Use of Evidence in Competitive Grant Programs," which highlights how agencies directly connect evidence to investments and impact. MCC also scored top marks in categories on Innovation, Repurposing for Results, and Leadership.
For MCC, collecting and publishing data on all our investments allows us to track progress toward targets and course-correct if needed. Moreover, relying on data to deliver and produce results ensures that the American people are getting a good return on their investment. This is why MCC employs technically rigorous, systematic, and transparent methods of projecting, tracking, and evaluating the impacts of its programs.
The agency's new Evaluation Briefs are a key product to achieve this aim. These four-page briefs summarize the results and learning from MCC's independent evaluation reports by distilling key findings and lessons in an accessible way while also pointing to MCC's deep well of publicly-available information about our investments. Evaluation Briefs are co-produced by the independent evaluator and MCC's Monitoring and Evaluation division, maintaining MCC's commitment to objective, independent reporting on program results. Each Evaluation Brief includes a program overview, key findings, evaluation questions, detailed findings, MCC learning, and evaluation methods.
The 2020 Federal Standard of Excellence identifies areas for additional actions to ensure that evidence and data are driving federal decisions. At MCC, we are always looking to build on our success and consistently do better. We look forward to exploring ways to advance the role of evidence in decision-making in our own investments and with our partner countries.