MCC CEO Sean Cairncross Participates in Groundbreaking Ceremony for Rehabilitation of Niger's Largest Irrigation System
For Immediate Release
November 5, 2019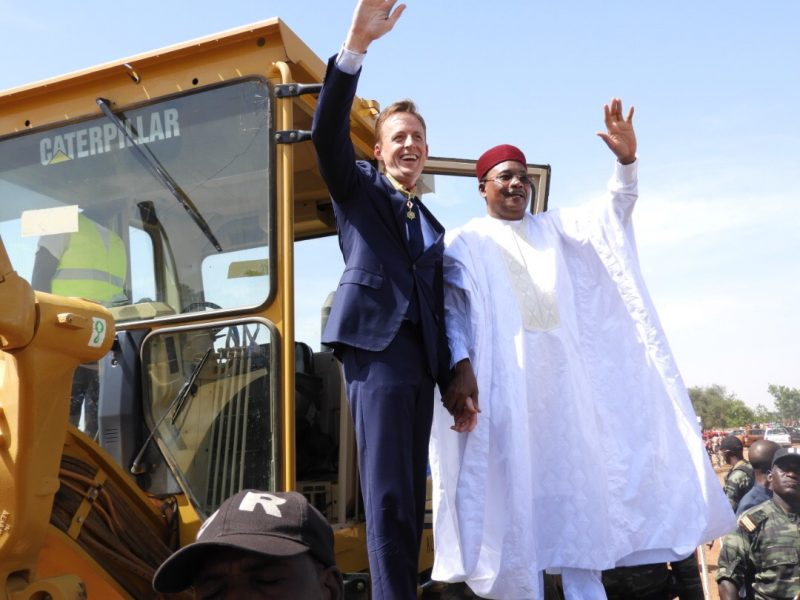 NIAMEY, Niger, November 5, 2019 – Sean Cairncross, the CEO of the Millennium Challenge Corporation, participated in a groundbreaking ceremony yesterday alongside the President of Niger, Mahamadou Issoufou, and U.S. Ambassador Eric Whitaker, to mark the beginning of construction to rehabilitate the Konni Irrigation System.
The project is part of MCC's $437 million Niger Compact, which aims to increase rural incomes through greater agricultural production and yields, and higher value and sales for agricultural products.
"Across Niger, many people rely on agriculture, but in many cases agricultural livelihoods for Nigeriens amount to mere survival with few opportunities to use the land to increase their household income. We are working to change that," said MCC CEO Sean Cairncross. "MCC's compact with Niger supports the Government of Niger's ambitious efforts to modernize irrigation, and invest in sustainable natural resource management."
U.S. Ambassador to Niger Eric P. Whitaker also participated in the ceremony.
"MCC's Niger Compact was developed through a partnership between United States and the Government of Niger to address two major constraints to economic growth in the country—unreliable access to water and insufficient access to agricultural markets," said Ambassador Whitaker. "Today's groundbreaking is an important milestone in the successful implementation of this compact, which will boost the agricultural sector in Niger and allow the country to manage its water resources more effectively."
The Niger Compact consists of two projects:
The Climate-Resilient Communities Project, which aims to increase incomes for small-scale agriculture- and livestock-dependent families in eligible municipalities in rural Niger. Through community-driven investments in climate-resilient public works, the project will improve crop and livestock productivity, sustain natural resources critical to long-term output, and increase sales of targeted commodities. The project is being implemented in collaboration with the World Bank.
The Irrigation and Market Access Project, which worked to improve the efficiency and transparency of public-private partnership by supporting activities designed to increase the government's capacity to identify, develop, tender, implement, and oversee partnerships with the private sector.
In addition to CEO Cairncross, Nigerien president Issoufou, and Ambassador Whitaker, other participants in the ceremony included the Nigerien Minister of State for Agriculture and Livestock, Albade Abouba, the Governor of Tahoua, Moussa Abdourahamane, and the Director General of MCA-Niger, Mamane Annou.
The Niger Compact has the potential to benefit more than 3.9 million people. MCC's work in Niger is part of its mission to reduce poverty through economic growth while promoting good governance in its partner countries around the world.