Press Release
In Côte d'Ivoire, Millennium Challenge Corporation Announces New Opportunities with Bechtel Overseas Corporation
For Immediate Release
July 3, 2018
ABIDJAN, Côte d'Ivoire, July 3, 2018 – The U.S. Government's Millennium Challenge Corporation (MCC) Chief Operating Officer Jonathan Nash today announced exploration of a new partnership with Bechtel Overseas Corporation while participating in the President's Advisory Council on Doing Business in Africa (PAC-DBIA) mission stop in Côte d'Ivoire.
The announcement was made following a roundtable discussion hosted by MCC and the Government of Côte d'Ivoire to highlight work underway to strengthen the business environment in the West African nation.
"Developing innovative public-private partnerships is crucial to the sustainability and impact of MCC's investments," MCC COO Jonathan Nash said. "We are always looking for innovative opportunities for MCC and the private sector to collaborate and leverage our unique expertise in support of economic growth."
"We're honored to partner with the MCC and African countries to redefine what great infrastructure planning looks like for the region," Andrew Patterson, Bechtel's region president for Africa said. "Bechtel is committed to Africa – we've been here 70 years, delivering hundreds of projects, including country-wide infrastructure plans, with sustainability at the core."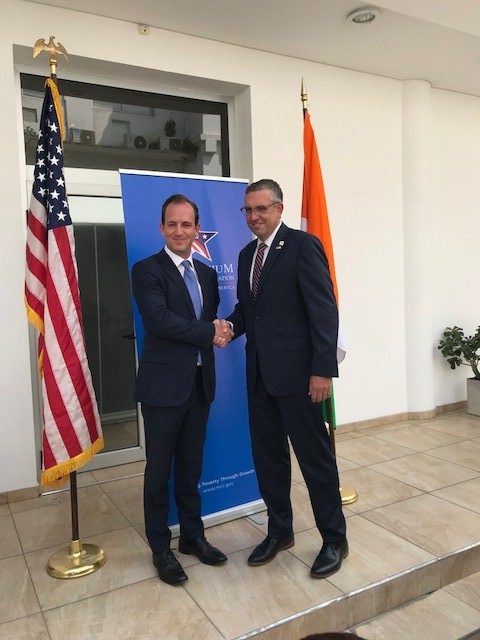 New Collaboration
Bechtel was competitively selected to develop a full application for a potential partnership based on its methodology, technical experience, and global expertise related to national infrastructure master planning. Bechtel, headquartered in San Francisco, California, is a global engineering, construction and project management group of companies.
Infrastructure master planning is critical for identifying opportunities for coordinated and complementary investments among public sector, private sector, and civil society partners; and the rise of blended finance in emerging markets further underscores the value of comprehensive planning from project conception to closure. Through collaboration with Bechtel, MCC sees an opportunity to strategically expand impact of its sector specific infrastructure planning to national-level integrated infrastructure master planning.
MCC's Investment in Côte d'Ivoire
At today's roundtable discussion, MCC COO Nash was joined by U.S Embassy in Côte d'Ivoire Chargé d'Affaires Katherine Brucker and representatives of the Ivorian Government including Secretary General of the Presidency Patrick Achi, Minister of National Education Kandia Camara, Minister of Transport Amadou Koné, and Minister of Economic Infrastructure Amédée Koffi Kouakou.
COO Nash highlighted MCC's $524.7 million Côte d'Ivoire Compact to reduce poverty through private sector-led economic growth, which will make investments in the transportation and education sectors. COO Nash also took the opportunity to highlight upcoming procurement opportunities related to the compact's two projects: the Abidjan Transport Project, which will work to rehabilitate roads in and around the port area; and the Skills for Employability and Productivity Project focused on increasing teacher training and supporting the construction of up to 84 secondary schools. The project also includes a public-private partnership to develop a new technical vocational education and training model to advance development of in-demand skills.
For more information on procurement opportunities, visit www.mcc.gov/WorkWithUs, and check out five reasons U.S. companies should do business with MCC.
###
About PAC-DBIA: From June 24 to July 6, PAC-DBIA is conducting a fact-finding trip to gain insight into market opportunities for U.S. businesses in fast-growing, African economies. MCC COO Jonathan Nash is joining a delegation from PAC-DBIA and the U.S. Department of Commerce in Côte d'Ivoire and Ghana to showcase MCC's investments that are supporting economic growth and the agency's commitment to expanding trade and investment in Sub-Saharan Africa.
About MCC: The Millennium Challenge Corporation is an independent U.S. Government agency working to reduce global poverty through economic growth. Created in 2004, MCC provides time-limited grants and assistance to poor countries that meet rigorous standards for good governance, from fighting corruption to respecting democratic rights. Learn more about MCC at www.mcc.gov.